What does an Electrician do?
If you're looking for a hands-on, rewarding career that connects to success, consider the electrical technology field. Electricians install, maintain and repair electrical wiring, equipment and fixtures. They also ensure that work meets code specifications. Nearly 80 percent of electricians work in the construction industry or are self-employed, but there are opportunities for electricians in other industries as well.
Career Forecast
 

Bright Outlook
Average Salary

 
$52,770
on campus
Learning at Washburn Tech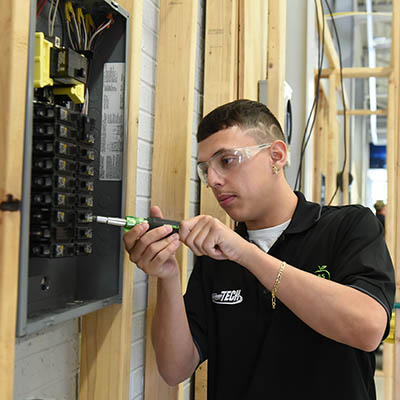 The program will prepare you for work in electrical construction and maintenance. Instruction includes safety, electrical theory, blueprint reading, wiring, electrical construction and residential/commercial electricity. Open to both high school and adult students, you can complete this half-day program in two semesters. Upon completion, you'll earn a 30-credit-hour technical certificate. You also may be eligible to enter an electrical union's apprentice program at the second level. Starting in January 2021, Washburn Tech will offer an evening Electrical Technology program.
CERTIFICATIONS: OSHA-30; NCCER Core; NCCER Field Safety; NCCER Electricity Level I
Jobs and Salaries
CAREER FORECAST:
bright outlook
Electricians proficient in working with the latest technologies will do especially well in today's job market. The data below refers to surveyed wages and average annual job openings in the state of Kansas due to growth and net replacement. SOURCE: klic.dol.ks.gov
Morning
---
PROGRAM BEGINS
Every August
---
SCHEDULE
MON - FRI; 8-11:10am
Afternoon
---
PROGRAM BEGINS
Every August
---
SCHEDULE
MON - FRI;11:45am-2:55pm
Evening
---
PROGRAM BEGINS
Every January
---
SCHEDULE
MON - THURS; 5:30-9:30pm