Veterans & Military
Washburn Tech is proud to serve those who serve our country. Whether you are a veteran, active duty member, reservist or National Guard member, our Veterans' Certifying Official provides assistance in obtaining educational services and benefits from the Department of Veterans Affairs. Services include:
Credit for educational experience in the Armed Forces
Transfer credits accepted from other accredited colleges and universities
Full-time veteran services and financial aid staff members available
A variety of degree programs approved for VA educational benefits
Schedule an appointment to learn about your educational benefits, rights and responsibilities by contacting our financial aid office at 785.670.3360 or tech-fa-info@washburn.edu. You also can go to the KanVet website or to www.gibill.va.gov.
Connect with Chris
Chris Bowers doesn't just understand the veteran experience at Washburn University – he has lived it. After his third enlistment in the U.S. Army, Bowers retired from military service in 2010 before deciding to pursue a degree in history at Washburn.
Bowers is the Military Transition Coordinator for Washburn and Washburn Tech, serving as the first point of contact for all new veterans who choose to enroll.
Contact Chris as 785.670.1983 or email chris.bowers@washburn.edu.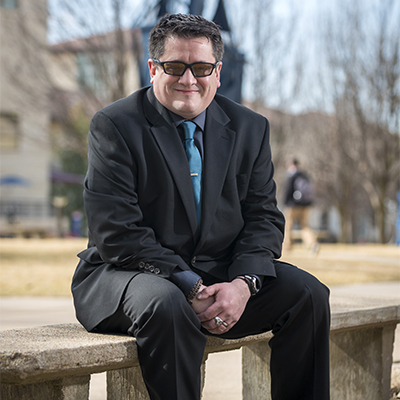 GI Bill® Application
Apply for your GI Bill® benefits by going online and completing an application.
For ease of completing the application, have the following information available:
Personal information, including Social Security number
Bank routing number
Bank account number
Physical address: Washburn Tech, 5724 Huntoon St, Topeka, KS 66604
Facility codes:

Academy of Cosmetology 11X09016
Fort Riley CPT 11X08816
Washburn Institute of Technology 11X08916
Washburn Tech East 11X08716
Washburn University 1101916

Dates of service
If you have your DD214, you can upload it as part of your application
GI Bill® Processing
Each term, you must complete a Veterans Information Sheet and submit a copy of your Certificate of Eligibility in order for your GI Bill® education benefits to be processed. It is important to complete this form in a timely manner to ensure your benefits are not delayed. You are required to report all changes to your enrollment to the Washburn Tech Certifying Official. This includes but is not limited to, reduction of credit hours or a complete withdrawal, program changes, and incomplete grades or failing grades from the term. You must also submit any changes made to your personal contact information and address.
Waiting for Benefits?
The Department of Veterans Affairs has funds available for students who are still awaiting their education benefit claim to be processed. Eligible veterans can receive up to a $3000 advance, which will be recouped from future benefit payments.
If you applied for one of VA's education programs and have not yet received your monthly benefit payment, you can request a one-time advance payment. Contact your local VA Regional Office at 1.800.827.1000 or go to www.va.gov. Be sure to have your facility code close at hand.