What does an HVAC technician do?
Self-starters who enjoy new challenges will quickly warm up to a career in climate and energy control technologies, traditionally known as HVAC training. Washburn Tech will give you the knowledge and skills to repair, service, and maintain heating and cooling systems both in large commercial and residential settings. As emerging technologies hit the marketplace, our graduates are prepared to install and service them.
Career Forecast
 

Bright Outlook
Average Salary

 
$49,710
on campus
Learning at Washburn Tech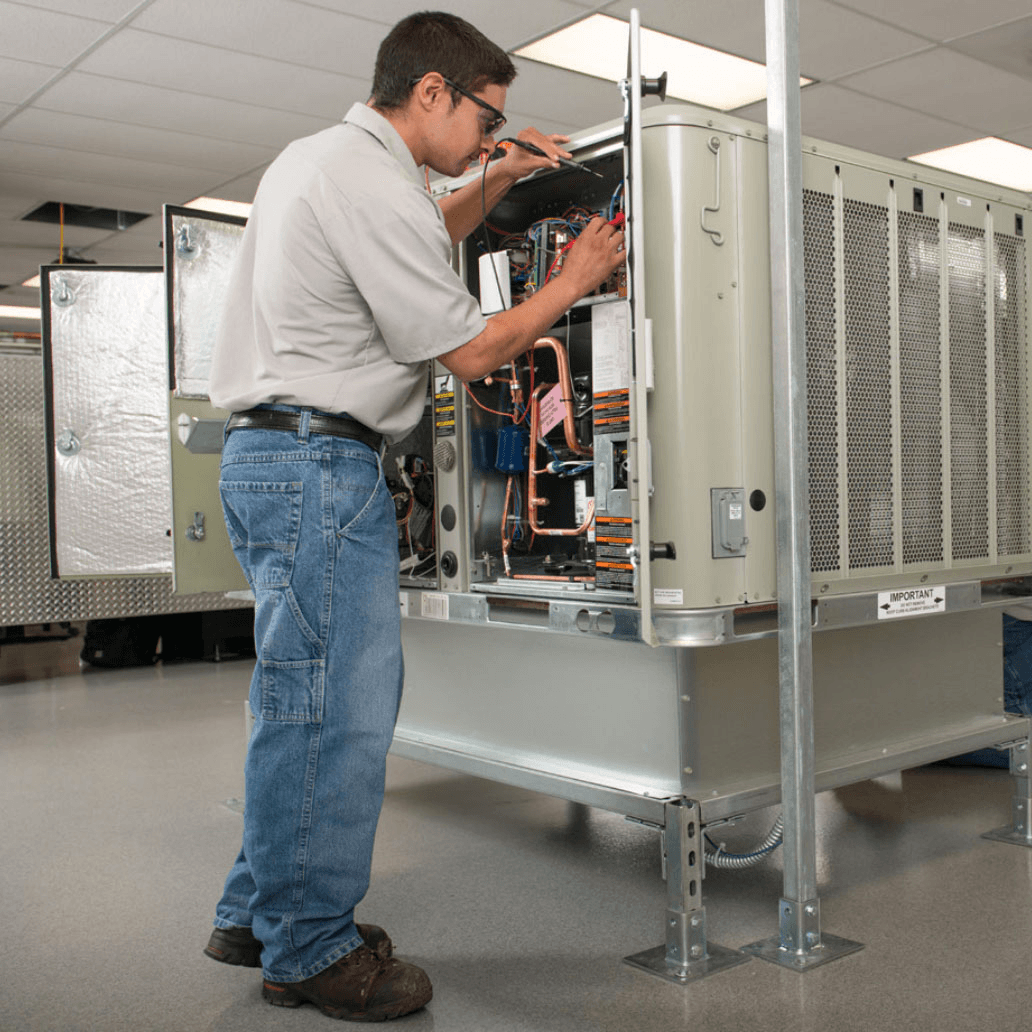 The program operates out of the Midwest Training Center (MTC), a state-of-the-art facility on our main campus. Through partnerships with Trane USA, Snap-On Tools, and the National Coalition of Certification Centers, we train you in the areas of electricity, heating, residential air conditioning, refrigeration, sheet metal fabrication, direct digital controls (DDC) and commercial HVAC applications. You can leave with industry credentialing in the areas of refrigerant handling safety, tool usage and control systems. Foundational skills and principles learned in this program prepare you to work in the commercial and residential HVAC market place. Full-day students can complete the program in two semesters while half-day students can complete in four semesters. Upon completion, you will earn a 44 credit hour technical certificate and be eligible to complete an associate degree or more advanced degrees at Washburn University.
CERTIFICATIONS: 410A Safety; Building Automation Level 1; EPA 608; HVACR ICE; Meter Certification; OSHA-10; Tool Safety
Jobs and Salaries
CAREER FORECAST:
bright outlook
The Kansas Governor's office identifies climate and energy control (HVAC) technicians among the top three most needed technical occupations in the state. The data below refers to surveyed wages and average annual job openings in the state of Kansas due to growth and net replacement. SOURCE: klic.dol.ks.gov
Schedule Options
Morning
---
PROGRAM BEGINS
Every August
---
SCHEDULE
MON - FRI; 8-11:10am
Afternoon
---
PROGRAM BEGINS
Every August
---
SCHEDULE
MON - FRI; 11:45am-2:55pm
Full-day
---
PROGRAM BEGINS
Every August
---
SCHEDULE
MON - FRI; 8am-2:55pm