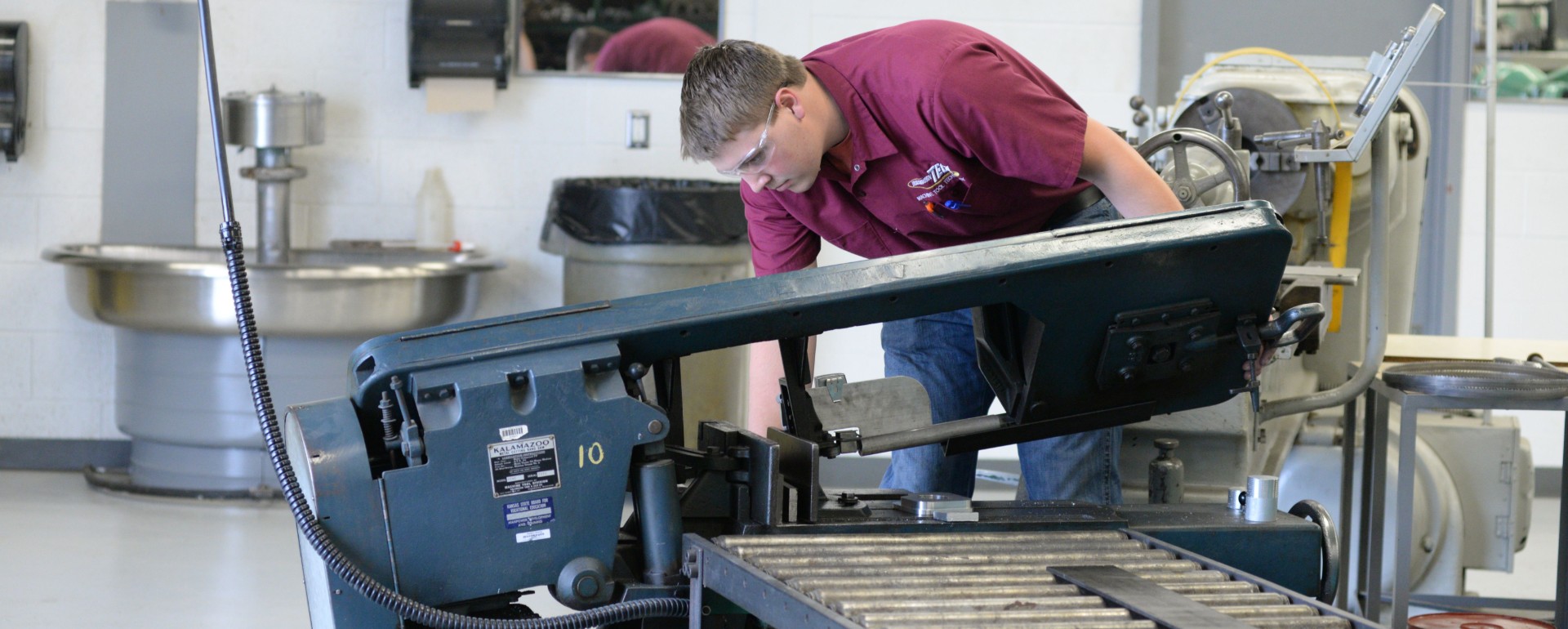 WHAT DOES A MACHINE/TOOL TECHNICIAN DO?
A career as a machine tool technician is cut-out for students who enjoy using their hands to make something work.  Our graduates apply their knowledge and skill to plan, manufacture, assemble, test and repair parts as well as mechanisms and machines.  If you have strong math skills and like a challenge, this career is for you!
Career Forecast
 

Stable Outlook
Average Salary

 
$40,970
on campus
Learning at Washburn Tech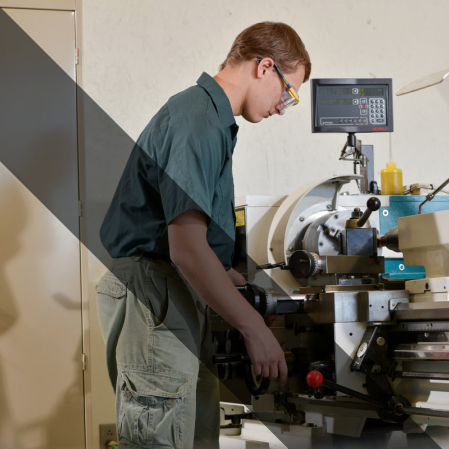 Learning at Washburn Tech
In this program, you will learn to read technical information on blueprints along with sketching, angles, tapers, gearing and precision measuring. Instruction also includes hands-on training in the operation of machine tools, such as the engine lathe, milling machine, surface grinder, drill press, computerized numerical control milling machine and computerized numerical control lathe. Upon completion, you will earn a 48 credit hour technical certificate. You also may be eligible to complete an associate or more advanced degree at Washburn University.
CERTIFICATIONS: NIMS, OSHA-10
Learning Pathway

To enroll in this program, you must score a minimum of 4 in both reading and math on the Accuplacer test.
Machine Tool Certification

CERTIFICATIONS: Machine Tool Certification, OSHA 10

After earning a technical certificate, you'll be prepared to enter the workforce.

Or you can continue your education and earn an associate degree.
Bachelor Degree of Applied Science

After completing an associate's degree, students are eligible to earn a Bachelor of Applied Science at Washburn University.

For more programs, enrollment and course schedule information, please contact Admissions.
Jobs and Salaries
CAREER FORECAST:
stable outlook
Job candidates who can operate multiple machines have the best opportunities for employment and advancement. The data below refers to surveyed wages and average annual job openings in the state of Kansas due to growth and net replacement.
Morning
---
PROGRAM BEGINS
Every August
---
SCHEDULE
MON - FRI; 8-11:10am
Afternoon
---
PROGRAM BEGINS
Every August
---
SCHEDULE
MON - FRI; 11:45am-2:55pm
Full-day
---
PROGRAM BEGINS
Every August
---
SCHEDULE
MON - FRI; 8am-2:55pm
Program Cost
Financial Aid is available to those who qualify, and have a high school diploma or GED. To set-up an appointment with a financial aid counselor, call 785.670.3360.